Kurdish women's rights activist, researcher and author Soraya Fallah spoke on behalf of ethnic minorities in Iran.
Get link

Facebook

Twitter

Pinterest

Email

Other Apps
Finding unity, supporting human rights in trying era
A rally in Laguna Beach brought together thousands on International Human Rights Day
https://www.coastreportonline.com/features/article_e51a2802-7d6e-11ed-9fd3-ef32dc7d4b9a.html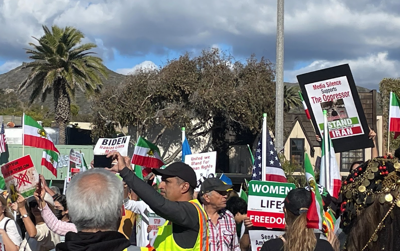 Pacific Coast Highway was backed up from the start of the Main Beach, blaring with the sounds of cars honking in support of the rally and attendees holding signs and chanting in support of human rights. Flags from countries all over the world waved in the wind and posters with the faces of activists and people who had been wrongly persecuted, detained, assaulted and/or murdered were held up in defiance of the oppressors. Laguna Beach was buzzing with the passion of thousands of people looking and fighting for justice.
On Dec. 10, non-profit Laguna Beach based association Social Compassion hosted a rally in Laguna Beach in honor of the 75th International Human Rights Day with around 3,000 attendees.
Social Compassion worked with the Orange County Iranian American community to set up the rally. Grassroots organizations OC Iranians United and Hambastegi Movement also participated in organizing and spreading awareness.
"This is the 75th Anniversary of International Human Rights Day, but it's significant for us in the Iranian community because of what's happening in Iran and Ukraine and places like Afghanistan because there's a lot of human rights issues over there," Hambastegi Movement member Ali Javahery said. "Also, historically for Iranians and Persians, [human rights day] is something that was established over 2,500 years ago. It was actually coded. So for us, there's the historical implications and current implications."
Iranians and Persians were not the only communities who came in support of the fight for human rights.
"These are all countries who are sympathetic to everywhere that there's human rights violations for people of Ukraine, people of Iran," Javahery said. "These are beautiful countries like Sweden, Germany, Poland, Canada and they're sympathetic to our cause and the international community wants to come behind the people of these countries."
Kurdish women's rights activist, researcher and author Soraya Fallah spoke on behalf of ethnic minorities in Iran.
"[I was invited] because their voices were not heard as much as others, yet they are under the most pressure of the Iranian regime because they are marginalized and living in different cities and different provinces so most of the time they are not heard," Fallah said. "Especially women, they carry the torch of the revolution of these ethnic minorities. Unfortunately, because of dominant culture and dominant ethnicities, they are overlooked and they are overshadowed."
Populations in border regions of Iran are at a high risk of extreme violence. Structural racism against non-Persians means that Kurds faced the highest number of executions after the Persian-led and Tehran-centered 2009 Green Protests.
"It was important for me to amplify their voices, because I was imprisoned as well," Fallah said. "When we came outside of Iran, we were able to tell around all the world that there are some prisons in the country that there is no one there to take a look to see what's going on."
Laguna Beach city councilman Alex Rounaghi came in support of the rally. "I'm an Iranian American so I'm here to stand in solidarity with the Iranian community who's fighting oppression across the world and every people across the world who's fighting oppression," Rounaghi said. "That's what Laguna Beach is all about and that's what America is all about."
The stage at the rally hosted speakers and activists, each of them representing and fighting for human rights.
The Iranian Circle for Women's Intercultural Network is an activist group that works specifically on women's rights issues in Iran. ICWIN handed out a letter by Amnesty International asking the Iranian government to halt the 28 execution orders that have been issued and held a demonstration on stage as well.
Their demonstration highlighted the 28 prisoners that received the execution orders that could be handed out to any of the 18,000 plus prisoners in Iran.
Members of the ICWIN stood on stage in all black with nooses around their necks to represent execution by hanging in Iran; index cards with the names of people in Iran who've been arrested in red ink pinned to their clothing; and posters with images, names and information to help the people in Iran who have received the execution orders.The crowd shouted "Say their names!", and ICWIN responded with the names of victims, including over 40 children of the Iranian regime.
"The past three or four months, over 80 days now, we've been focused on the movement that started and is now turning into a revolution," board member of the ICWIN Ruja Kia said.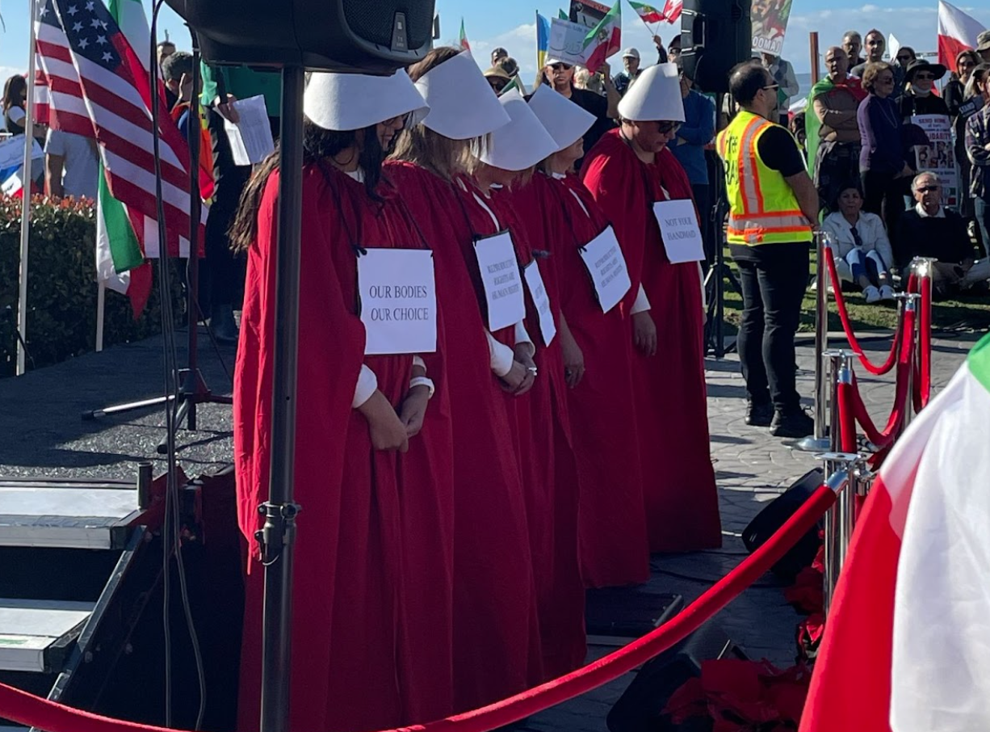 Scientist and expert on the human rights movement in China Wen Chen spoke on the human rights abuses committed by the Communist Party in China. In the past century, at least 80 million Chinese people have been murdered by the Communist Party to maintain their authority.
"The way the Communist Party persecutes people is they always target 5% of the population and tell the other 95% 'You stay quiet,'" Chen said. "They keep rotating until everyone becomes a victim, so every individual in China, they themselves or their family members, almost everyone gets persecuted because they remained silent."
In the 1990s, when Falun Gong was an exception to the silence and stepped out in the thousands, following their teachings of truthfulness, compassion and tolerance. This act shocked Chinese society and brought to light that anyone can step out and speak out against injustice. Now, there are thousands of groups in China protesting for their rights.
"I think this is a very very important change in China and that also encourages us," Chen said. "When everyone speaks out, the individual risk is much smaller."
Chen also spoke on the influence that China has on the international community.
"Overall, we really became self censored in the United States. We really don't know much about this," Chen said. "I really hope that people can think deeply about the information. Amnesty has some good information, and so does the Chinese Epoch Times, they have uncensored news about China. I hope people can find out more, and through word of mouth let people know what's going on."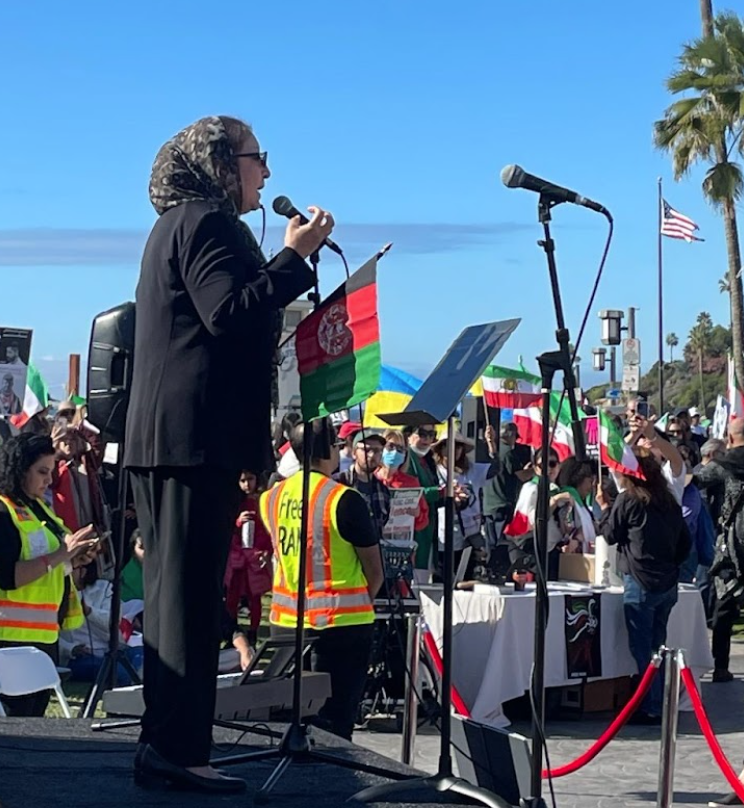 "We were talking about human rights, equity and equality [...]. And here we're honoring the Iranian country and the struggles they're going through, and the Ukranian country and even here in the United States of America, minority oppressed groups like African American groups, people who are disenfranchised," public figure, business owner, multi-organization founder, community leader and presenter Dom Jones said. "We're standing together and talking about how we have to stand together to fight against the things that take away our freedoms, our human rights."
"Jin. Jiyan. Azadi. Woman. Life. Freedom," the crowd shouted
Get link

Facebook

Twitter

Pinterest

Email

Other Apps